Focus on
Claudio Gabriele: GioCar di Fantasia – Organo – Editions Cassiopée Musique, 2023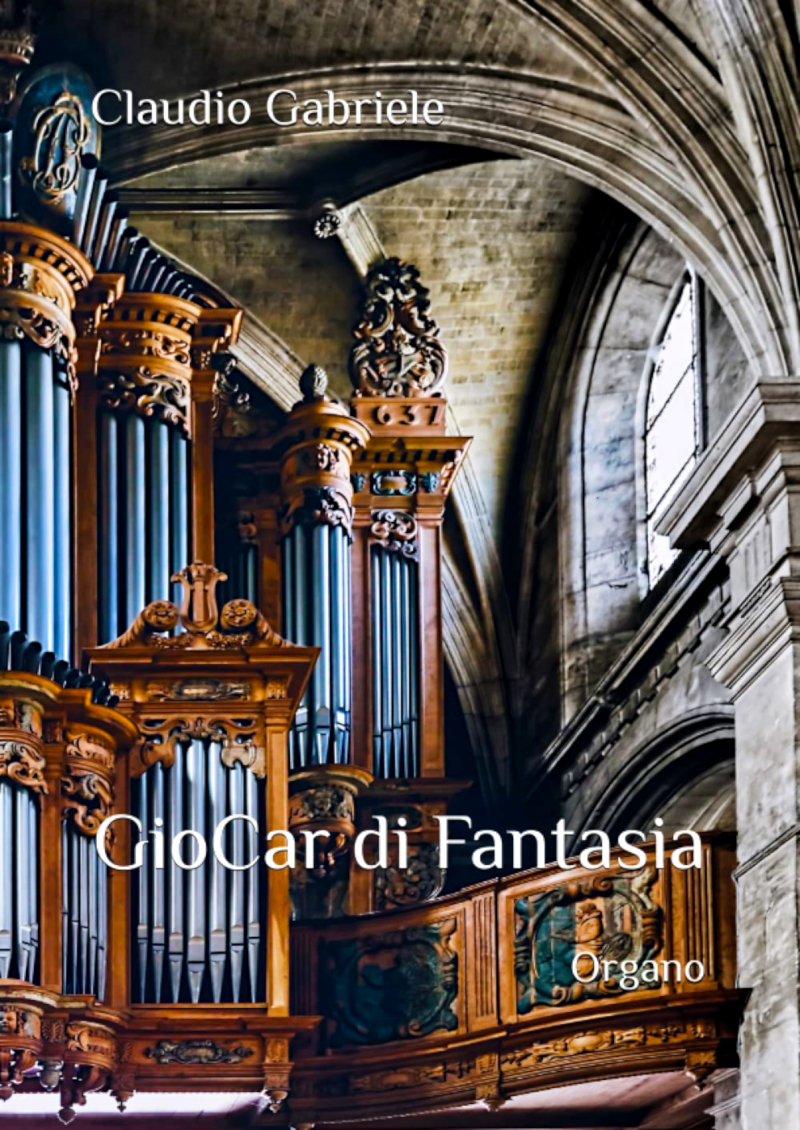 ENGLISH
- Fantasia for organ, composed on a theme derived from the letters of the name GIORGIO CARNINI, a tribute to the organist of the same name. The musical writing has a 'toccata' character, the style is fluid and often arpeggiated, on a non-tonal harmonic texture. Different rhythmic patterns alternate with agility and suggest as many keyboard or register changes. Difficulty: professional level. Duration: 4'15". - Claudio Gabriele, composer, pianist, organist, conductor, studied in Rome at the "Conservatorio di Santa Cecilia". He specialised at New York University and IRCAM in Paris. In addition to teaching composition, Claudio Gabriele has an intense creative activity in chamber, orchestral and electroacoustic music. His compositions are performed internationally in important institutions and festivals.
FRANÇAIS
- Fantaisie pour orgue, composée sur un thème dérivé des lettres du nom GIORGIO CARNINI, en hommage à l'organiste du même nom. L'écriture musicale a un caractère de "toccata", le style est fluide et souvent arpégé, sur un tissu harmonique non-tonal. Différents motifs rythmiques alternent avec agilité et suggèrent autant de changements de clavier ou de registre. Difficulté : niveau professionnel. Durée : 4'15". - Claudio Gabriele, compositeur, pianiste, organiste, chef d'orchestre, a étudié à Rome au « Conservatorio di Santa Cecilia ». Il s'est spécialisé à la New York University et à l'IRCAM à Paris. Parallèlement à l'enseignement de la composition, Claudio Gabriele mène une intense activité créatrice dans le domaine de la musique de chambre, orchestrale et électroacoustique. Ses compositions sont jouées internationalement dans d'importantes institutions et festivals.
ITALIANO
- Fantasia per organo, composta su un tema derivato dalle lettere del nome GIORGIO CARNINI, omaggio all'omonimo organista. La scrittura musicale ha un carattere di "toccata", lo stile è fluido e spesso arpeggiato, su un tessuto armonico non tonale. Diversi pattern ritmici si alternano con agilità e suggeriscono altrettanti cambi di tastiera o di registri. Difficoltà: livello professionale. Durata: 4'15". - Claudio Gabriele, compositore, pianista, organista, direttore d'orchestra, ha studiato a Roma al Conservatorio di Santa Cecilia. Si è perfezionato alla New York University e all'IRCAM di Parigi. Oltre all'insegnamento della Composizione, Claudio Gabriele ha un'intensa attività creativa di musica cameristica, orchestrale, elettroacustica. Le sue composizioni sono eseguite a livello internazionale in importanti istituzioni e festival.
Available on Amazon
2023
,
organo
All Focus on
| | | |
| --- | --- | --- |
| Claudio Gabriele: GioCar di Fantasia – Organo – Editions Cassiopée Musique, 2023 | 'Coefficient de viscosité angélique' for 12 Saxophones - Score & Parts - Now on Sale at AMAZON | 'Coefficient de viscosité angélique' for 12 Saxophones - Score & Parts - Now on Sale at AMAZON |
| Bristling Energy: The Best Classical Music Moments of the Week | Pensieri Alati | Stéphane Sordet - Saxophone & Sylphyo |